65 442 PARTS FOR SALE @ 442BRO.com

I am proud to offer what I think is the best looking 442 shirt I've ever designed in black or grey. The grafix, stencil & shirt are top quality and the emblem colors are correct.I have looked at a lot of logo shirts, but never liked what I saw. They were always plain, cheap or just wrong. We needed a shirt specific for the 64-67's So after the huge success of this web site I decided to create the 442BRO.com tee shirt. We're all proud of our cars, so it's time to SHOW YOUR COLORS. You'll be the envy of all your  friends when you pull up wearing this great looking shirt. 

All orders will be processed as received.

Please indicate your shirt color, logo location ( front or back ) and size......        

The pair of side scoop inserts in the middle are the originals. The two outer inserts have been stamped and die cut out of aluminum (better than original) by Jeff Szarek. They are available, and are the only known reproductions.  Just paint in the flat black and your ready to go. If you need them, this is your chance.

Contact Jeff at: Jeff Szarek 15847 Wakenden Rd. Redford Michigan 48239  

This is the ONLY correct tailpipe for the 65 442. Notice the crimps and the stainless tip. I do have a couple sets of these for sale. They are the original 2" pipe size. These are brand new and in beautiful condition. $850.00 I also have one set with 2.5" pipes for $900.00

FOR SALE

This is a 1965 442 Holiday Coupe. a complete stainless exhaust, a built 425 (ran 12:40) , Turbo 400 Transmission, B&M ratchet shifter w/reverse valve body, console, complete white interior w/bucket seats, carpets, head liner.  It runs, but  needs dash & under hood wiring redone.    Call 724-378-2100 8am-9pm est or email me at bro442@comcast.net

WOW !! After over 50 years, FINALLY IT"S HERE !!! This is a Brand New Reproduction  ABS plastic vacuum formed fan shroud.  The die molds were cast from an extremly rare original 442 plastic shroud.  This fan shroud will fit the 65 Olds F-85 ( ALL MODELS) "with or without" A.C.  Anyone owning a 65 F-85 will want one of these just for the excellent cooling that it brings to whatever motor you have installed.  So it doesn't matter if you have A.C. or not, your car will run cooler and help your motor live longer.  Mounting screws are included and will fit into the factory drilled holes in your radiator core support, exactly like factory.     COOL THAT ENGINE DOWN !!  

Price: $225.00 +shipping  Tell everyone you found it on  442bro.com
Enter All Info: 

Name

Address1

Address2

City                                              State

Zip

Phone Number  

E-mail Address 


Tail Lights Set (Complete) & Tail Panel $900 each

The tail light housings/bars and the rear panels were all pit free cores, rechromed by my friends the "Bumper Shop" in LA. Tail lights include new Fusick lenses. The silver paint on the tail panel is that paint you recommend on BRO's site. I have two rear panels to sell and one pair of tail lights left to sell.

Laminated Window Sticker      $50.00

The thing that people look at the most at a car show is my window sticker. People like to read it and comment on it. So Ive decided to offer them for sale. I bought a repro off ebay and fixed it so its absolutely correct for our cars. I have the order sheet for all options so the codes and prices are correct.

Only things I will need are your original dealer and dealer code, both should be in your Protect-o-plate if you still have it. If not you can make up a dealer, thats your call. Also, your VIN is needed. Big items I need are your options, body style and assembly plant.

Sheets are laminated in soft plastic for long life.   Sheets available in original or super size.

Be the envy of the Olds community, get your sheet TODAY!!!!!!   

$30.00 plus shipping.    Payments can be made thru Pay Pal or money order.

Jasen Ramsey

64 F-85 Tail lights  Nice Driver or excellent core for rechrome. $125.00

65 F-85 front wheel well stainless trim $250.00 a set (2 pieces)

Olds engine stud girdle NEW $120.00 complete

K-Motion K-1000 Valve Springs NEW   $100.00

65 - 67 (maybe other years)  correct vacuum trunk release button   $75.00

65 442 clutch pedal set-up  $250.00

65 442 clutch pedal set-up  $250.00

65 442 front sway bar  $150.00

65 442 HC or Vert seat rails  $145.00 a set

65 - 67 (maybe other years) vacuum trunk release  $100.00

65 442 shifter - driver quality - threads damage on top  $200.00

65 425 engine - Ultra Rare $1550.00

MANY MORE PARTS     If you don't see it ...... ask, I may have it! ...... Starting to get picked over.

65 A body drums - various

65 442 bench seat shifter - nice condition Good threads  $350.00

Various emblems from 65 Cutlass', F-85 rear $20 each

65 4 speed pattern plate $80

66 442 Ultra Rare 3 speed Hurst shifter $450

65 tail light bucket cores $150 ea

65 glove box doors $30 ea

65 F-85 headlite bucket assembly, driver quality $175 ea

65 F-85 Left front side moulding.

Driver quality, minor pits near center bar. Excellent core. $150 

Oldsmobile Emblems   I'm not sure what these are off of (I think hubcaps) $10.00 each   They are the same siz as the inside door emblem

Torker Manifold for Olds. $125 

If you are interested .... Email me for more pictures.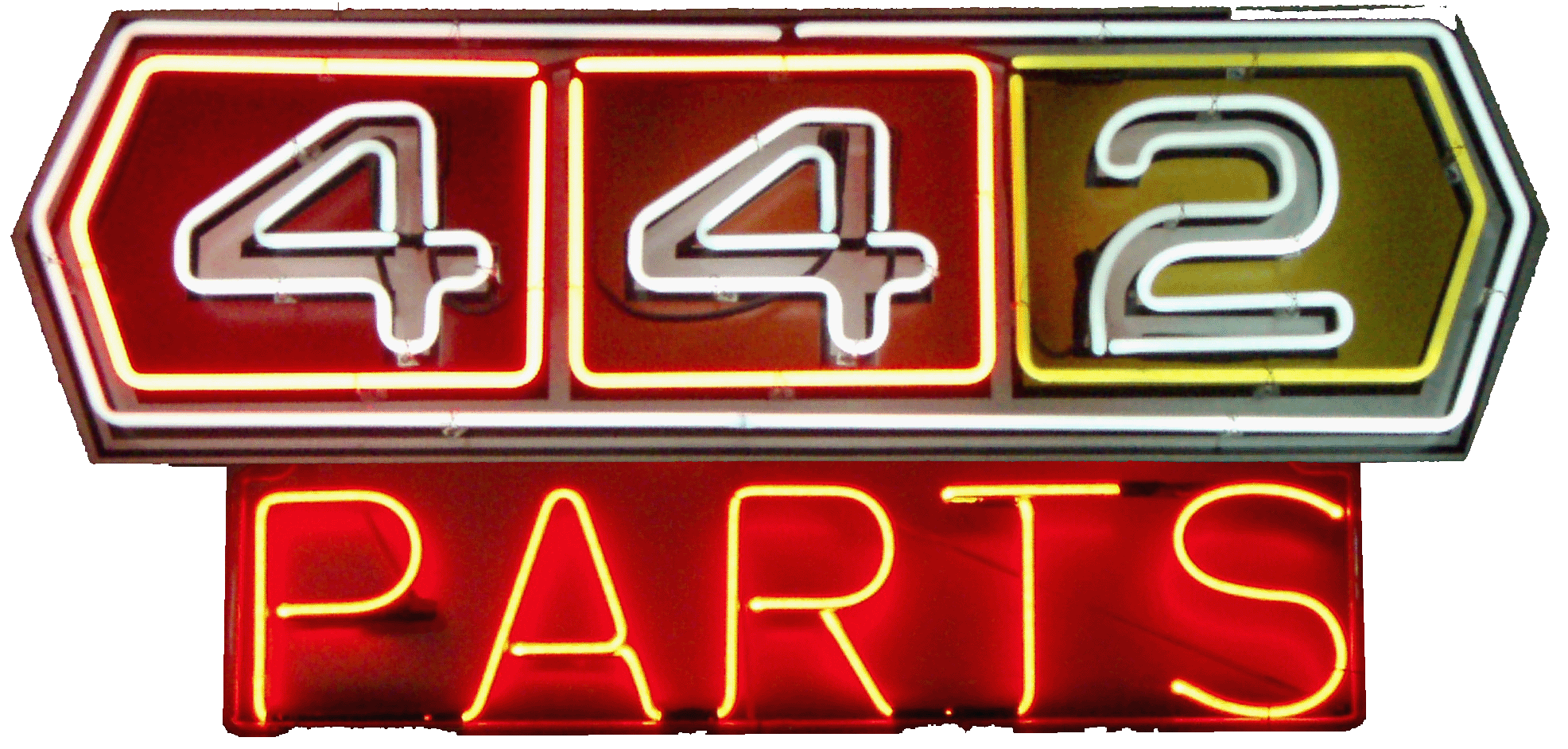 65 Standard Club Coupe Bench Seat Shifter Very nice Driver, but does have flaws.  email
Gas Tank Filler Pipe  $125

65 Standard Club Coupe Short Hood Spear Core $300  email
65 NOS (in the box) Backup Lights

$1000

442BRO.com TEE SHIRTS   $20.00 ea + $8.00 Shipping

Color & Quantity      Location    Size 

( You Can Ship 2 Shirts For $8.00 )

65 - 67 (maybe other years) rear sway bar  $200.00