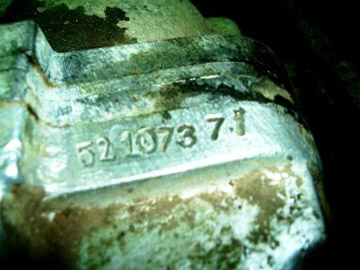 Vin Numbers have been found on some, but not all, automatic Transmissions

VIN NUMBER DECIPHERING:         338375M123456

1965  MODELS

From 1965 to 1967 the Serial Number identification plate

was attached to the left front body hinge pillar directly below

the upper door hinge.

1st digit "3" which indicates "The Oldsmobile Division of GM"

2nd digit - Series

                F85 & Standard = 3

3rd digit =  Engine type

                 F85 Standard V8 ................................... 4

                 F85 Cutlass V8 ...................................... 8

                 Odd Numbers signify 6 cylinders

4th and 5th digits - Body code

                               27 = 2d Club coupe (preceeded by 334)

                               17 = 2d Holiday coupe

                               27 = 2d Sport coupe

                               35 = 4d Station Wagon

                               36 = 4d Station Wagon

                               37 = 2d Holiday coupe

                               39 = 4d hardtop sedan

                               55 = 4d Vista Cruiser

                               56 = 4d Vista Cruiser

                               57 = 2d hardtop coupe

                               65 = 4d Vista Cruiser

                               66 = 4d Vista Cruiser

                               67 = 2d convertible

                               69 = 4d sedan

                               77 = 2d Club coupe

                               87 = 2d Holiday coupe


There is a lot of controversy regarding the rivets used to attach the VIN tag to the left front hinge pillar on the 65 Oldsmobiles. There are die hards who swear that GM only used the "rosette" style rivet to attach the Vin plate to the pillar.  While they did introduce this style on the 65's, the plain round stainless rivet was used on some of the cars with early build dates up to the end of December of 1964. I have documented this on 442's built in November and December (so far). If anyone can document the "plain rivets" on their vin tag, please contact me at bro442@comcast.net .  I do agree that this does complicate the identfication process, but It is not definative proof that the VIN tag was tampered with. Don't suspect fraud until you've checked all of the other identifying areas. You may be giving up on a true numbers matching car based on inaccurate information.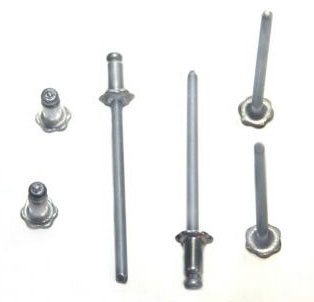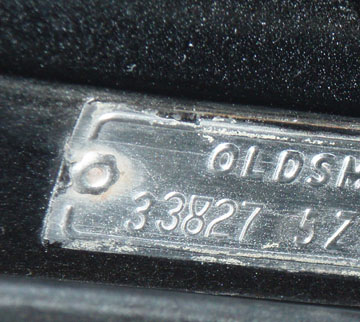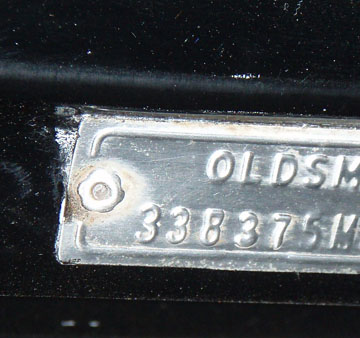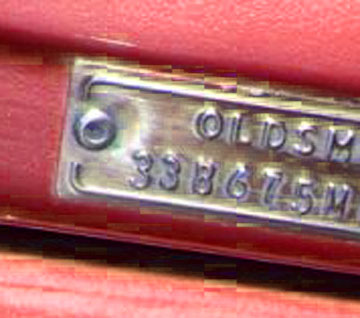 Fremont Sport Coupe "Rosette Type"

Built February 65

Lansing Convertible "Plain Stainless Type"

Built 11/64

Lansing Holiday Coupe "Rosette Type" Built May 65

New VIN plate for 1965: The new plate had square corners and was riveted to the drivers side body hinge pillar. This was done to eliminate breaking the attaching spot welds, hence the change to the use of rivets. Early 1965 rivets are the common circular stainless steel and the later rivets are rosette shaped. They are commonly called star, faceted, scalloped and many other names. There were still many dealers that did not stamp the delivery date, so don't don't let it's absence worry you.


6th diglt - Model year 

                       5 = 1965

                       6 = 1966

                       7 = 1967

                       8 = 1968

                       9 = 1969

                       0 = 1970

                       1 = 1971

7th digit - Assembly plant - B = Baltimore, MD

                           G = Framingham, MA

                           K = Kansas City, KS

                           M = Lansing, MI

                           R = Arlington, TX

                           Z = Fremont, CA

                           1 = Oshawa, ON Canada

Last 6 digits - Production number (sequence)

                                                       123456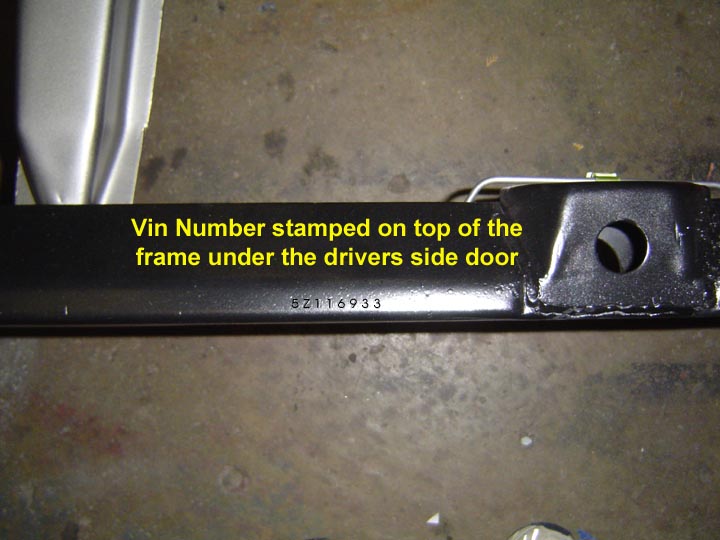 You can buy the "Rosette Style" rivets, so if you think the round rivets are not correct, will these really make you feel more at ease. If so, I'm sure the seller will be happy to change them for you.

I do not have, nor sell these rivets. I am simply making you aware that they are out there if you look hard enough.